We're enjoying a New York City weekend, reminscent of our two years here as newly-weds, but without the long days of work or a five year old boy with whom to spend our time. We love walking through Central Park, along Riverside Drive and the West Side Highway and then over to the Upper East Side and Carl Schurz Park near where we lived at 80th and York Streets.
The city is colorful with trees of every shade of yellow, ochre, red and green; the park filled with runners, bicyclists, horse-drawn carriages, pedi-bike cabs, skateboarders, and skooters and the energy high, the pace quick, the noise cacophonous. 
This trip features three plays ("Cabaret," "The River" and "The Elephant Man"). Cabaret was a re-run for us; Alan Cumming as the emcee was wonderful, Michelle Williams as Sally Bowles, a little weak. We are excited to see Hugh Jackman and Bradley Cooper in their respective works today and tomorrow.
We viewed the Henri Matisse exhibit at MOMA, "The Cut-Outs", the work from his last ten years. Fantastic colors, shapes, and designs, especially like the Blue Nudes and the swimming pool room decorations. Huge room size collages and small child-size projects. What a fantastic exhibit.
I am continually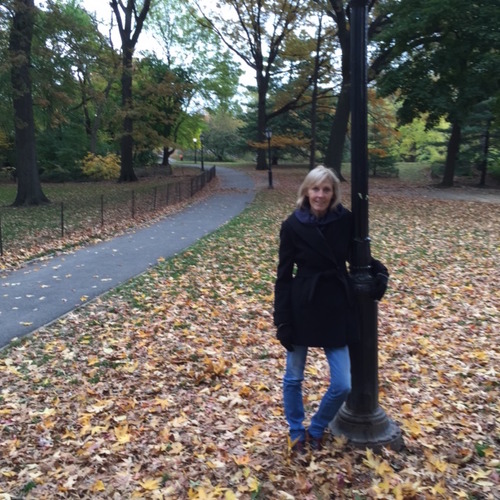 amazed at how much of the city we can explore from the lower tip near Battery Street (where I worked for a Wall Street law firm) to the lower tip of Harlem, from the East River to the Hudson River (and views across to New Jersey where my father lived as a child).
We are fortunate to have this time to explore, to remember, to look forward to move adventures.
[Central Park near Summit Rock]