Today, December 2, is our last full day in Austin after almost two years of living in this city and the state of Texas. My grandfather was born and raised on a farm about 100 miles from here and, after graduating from Columbia Law School in New York City, practiced law in Dallas for several years. He and my grandmother returned to New York to be closer to her family and to raise their three girls. My mother revered a large painting of the Texas hill country, rolling meadows of bluebonnets, lone oak tree in the center of the field, and tiny house in the distance. Other than these minor connections, my Texas heritage is almost non-existent. Some might even say that living in Austin is not really living in Texas, so maybe I haven't been here for two years.
We moved here for Doug's job and to experience a different way of life from our many years in northern California, especially when we lived in Placer County and Doug commuted to work in the San Francisco Bay Area. This adventure was a step toward a possible permanent home, after jobs ended and less-than-full-time work would be the daily fare. We loved the walkability, the trails, Austin City Limits (incredible music venue), the high-energy of the people coming here in droves. So leaving Austin is not so much about it as moving back to where we spent so many years.
It is difficult coming to a new place without a network in place, e.g., children in school, job, church, or other natural connections. Doug's social sphere is usually his place of work; for the past several years I've either worked remotely or on philanthropic activities, so I had to become acquainted with people in other ways. Unlikely as it may seem for those who know me, I reached out to two wonderful organizations, CASA of Travis County and Impact Austin and met incredibly generous, bright, dedicated and caring people. Some have become friends, others acquaintances, still others people I wish I'd had time to get to know.
I've missed my family, friends and community of northern California immensely; maybe as much as the incredible scenic beauty and diversity of that often drought-plagued, infrastructure ruined, recession-damaged state. The vernacular, I suppose, is that I was homesick for the place that was home for so many years (if moving from house to house every two or three years with a two-year stint in New York can be called home). After many nights of long discussions, changing of minds, consideration of options and delving into where we want to be, what we want to do, and how we want to live long-term, northern California and Boulder, Colorado were the winners.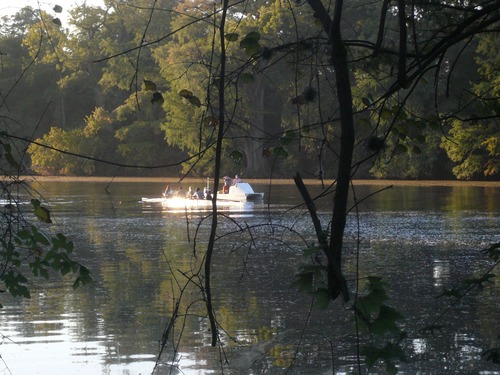 And so, another chapter begins. The furniture is packed, the moving van comes tomorrow and we fly to Sacramento in the afternoon. A small craftsman-style house in Sonoma will be our new home. I am sad to be leaving Austin, more than I'd thought, as I attended my last meeting as a member of the CASA board, await anxiously the Impact Austin decision on a new executive director and the outcome of this year's membership drive, jogged around Town Lake Trail, and had my last Pilates session.
We start another journey in a long list of journeys. Wish us luck.
[photograph: rowers on Town Lake, Austin, TX]